Teen Center and Thrift Store Preparing Teens for the Workforce
Posted on Sep 8 2020 by Aaron Heldt
---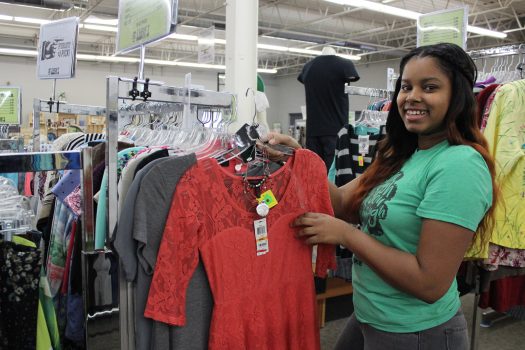 The COVID-19 pandemic has greatly changed the beginning of the 2020-2021 school year, and it is uncertain what the new "normal" might look like. With numerous school districts beginning the school year remotely (and many other activities being shut down), students will miss out on valuable interaction with their peers in class, at lunch, and during extracurricular activities.
Maintaining healthy and positive peer-to-peer and student-to-adult interaction is crucial during these unusual times. One way to engage students in both of these ways is through The Bridge Teen Center and The Bridge Thrift Store's innovative "Thriftastic" Job Readiness program.
As part of The Bridge's Thrifttastic program, students commit to 2-3 hours a week in a fun, creative and fast-paced retail environment. This is a great opportunity for students to safely get out of the house, give back to the community, and gain valuable job readiness skills as they prepare to enter the workforce.
Job readiness programs help teens develop an increased sense of social responsibility, develop valuable soft and hard skills in an active business setting, improve communication and critical thinking skills, discover their passions and potential career paths, develop a sense of purpose, and mobilize them to not just exist in their community but to be an active part of it.

Over the years, The Bridge has helped many Thriftastic students transition into their first jobs. Those students who thrive in the program are frequently hired for part-time student positions in the store. Many others move on to other jobs and carry the valuable skills they have been taught with them.

Those who have visited The Bridge Thrift Store have probably seen our students hard at work. Thriftastic student roles can include sorting and organizing donations, stocking merchandise, creating store displays, and many other hands-on tasks in a thriving, fully functional retail setting. As part of this program, student participants are also led through a job readiness training booklet to help build valuable skills for their future careers.

This program is open to middle school and high school students who have an approved Bridge Teen Center membership application on file. Not a member? Students can apply for a FREE membership right here. Student positions are limited and hours are flexible. Interested students should email [email protected] to set up an "interview" style meeting to discuss their area of interest and potential schedule.