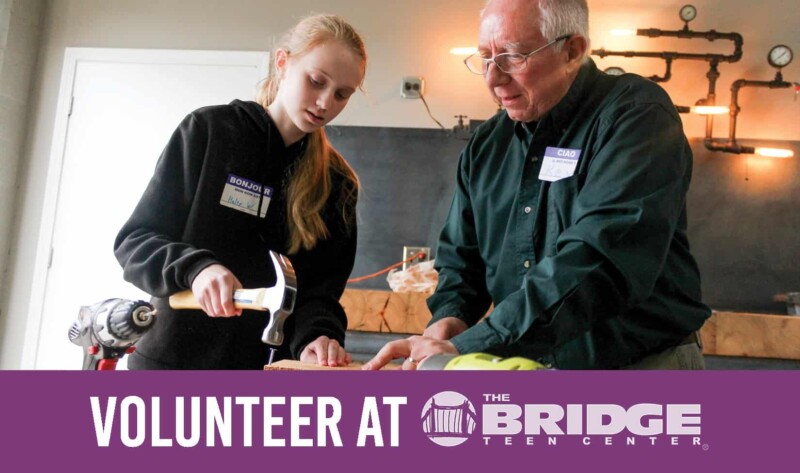 With hundreds of volunteers involved at The Bridge Teen Center, it is no secret that the support of the community is what has propelled us into the national spotlight as a leader in the world of teen-specific afterschool programming. Our volunteers are part of our Bridge family, and we hope you will consider joining our team in whatever capacity you are able.
Ways to Volunteer

1) Facility Volunteer - During office hours (10am-6pm Monday-Thursday), volunteers can answer phones, enter data, prepare mailings, and perform other administrative tasks. While out in the community, volunteers can help promote The Bridge by distributing printed materials and posting on community bulletin boards.

2) Program Volunteer - Individuals, groups or businesses can volunteer to lead a program based on their interests, expertise and passions. Examples: teach an art class, conduct music lessons, lead culinary demonstrations, or run a fitness program.

3) Bridge Volunteer - Students are drawn here because of the programs and events we offer, but come back because of the relationships we build with them. Whether serving weekly or monthly, Bridge volunteers connect with students and help provide a positive, fun and safe environment. Examples: weekly afterschool and monthly Friday night support.

Qualities of Levels of 1-3 volunteers:

Agree with and support the mission of The Bridge Teen Center

Faithful, responsible, teachable and available

Qualities of Level 3 volunteers:
Morals/values consistent with those of The Bridge Teen Center
Honest about weaknesses in appropriate manner

Sense of humor and like to have fun
Understand the unique dynamics of this age group
Willing to learn more about this age group

Genuinely love and enjoy students
Getting Started
The Bridge Teen Center wants every volunteer to serve based on their skills, interests, and passions. More importantly, we want your volunteer experience to be as fulfilling for you as it is for the students we serve. Every volunteer is required to complete an application, an in-person interview, and training (intensity of training depends on volunteer role). For the safety of our students, all volunteers who work with students are run through the national sex offenders lists and are subject to background checks. To apply to volunteer, click the button below to complete a volunteer application.



"Most Wanted" Volunteer Roles:

Volunteers to lead afterschool programs (T, W, Th afternoons)
Afterschool bus drivers & sub drivers (T, W, Th afternoons)
Afterschool support (T, W, Th aftersnoons)
Handyman Support for small projects around our facility
Friday night support (Once/Month 7-11pm)
Sound tech for live music (Once/month 6-10pm)
Flyer Distributors (Orland, Palos, Oak Forest, Mokena, Frankfort, Tinley Park)
Afternoon summer support (Ideal for college students)