A Montgomery Ward Foundation
"A's R Us" Model A Ford Club
Aldi
Andrew Family Foundation
Azteca Foods
Baird & Warner
Barnes Foundation
Barnes & Noble - Orland Park
Benjamin B. Green-Field Foundation
Bettenhausen Automotive
Blue Island Comm. Healthcare Found.
The Bridge Thrift Store
C.J. Erickson Plumbing
Calvary Church of Orland Park
Catherine's Gardens
Christopher Family Foundation
City Barbeque
Colonial Chapel
Cooper's Hawk Winery
Dot Foods
Dunkin Donuts - 156th & Harlem
Duly Health and Care
Ecolab Foundation
Good Shepherd Lutheran Church (Palos)
Evilena's Red Dresser
Faith United Methodist Church
Horton Insurance
Hyland Family Foundation
Hypercision Automotive
JC Penney
Kayne Anderson Foundation
Kallemeyn Collision
Kenny's Kids
Lucille Persson Charitable Fund
Macy's
Marquette Bank
Meijer
Moraine Valley Community College
Northwestern Medicine
Nothing Bundt Cakes - Orland Park
NuMark Credit Union
Old National Bank
Olivet Nazarene University
Ozinga Bros., Inc.
Parkview Christian Church
Providence Bank
Rocco Vino's - Orland Park
RBC Wealth Management
Suburban Service League
TC Energy
TJX Foundation
Trader Joe's - Orland Park
Trinity Christian College
Walmart
White Castle
Whole Foods - Orland Park
+ Many others in the community
Partnering with new and expanding businesses...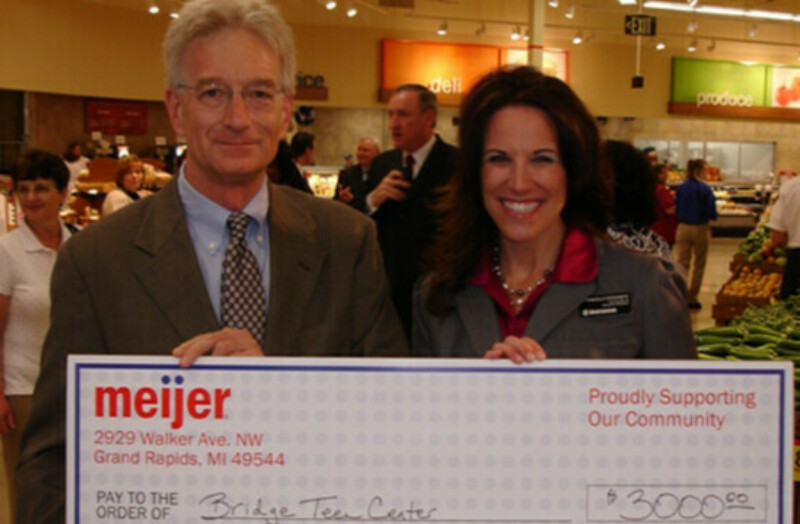 The Bridge Teen Center has been the "grand opening" beneficiary of many companies opening nearby locations since 2010. Some of our past partners include:

Andy's Frozen Custard
Art Van Furniture
Bob's Discount Furniture
Chick-fil-A
Chuy's Tex-Mex
City BBQ
Mariano's
Meijer
MOD Pizza
Sam's Club
SkyZone
Smashburger
Stan's Donuts
Walmart
Whole Foods

We appreciate businesses, large and small, who choose to GIVE LOCAL in support of The Bridge. If you are involved with a business that is opening a new location, hosting a reopening, or another special event, please consider supporting our mission!