The Bridge Teen Center is an innovative grassroots nonprofit community center that was designed around the interests and needs of teens in the suburbs. We opened in Orland Park in 2010, and have served over 12,000 different teens and families from 128 Chicago Southland and Northwest Indiana communities.
Our mission is to provide free programs during after-school and unsupervised hours where students can develop mentally, physically, emotionally and spiritually in a safe environment. The vision of The Bridge Teen Center is to provide teens with a place to find hope, purpose, and direction.
We serve students in 7th-12th grade, and also provide ongoing programs and resources to help parents navigate through the teenage years. Because student safety is our primary concern, The Bridge is managed by experienced professionals who are supported by well-trained and pre-screened adult volunteers.

We rely entirely on the volunteer and financial support of the community to keep our programs free for students. Currently, our funding comes from The Bridge Thrift Store (31% plus in-kind supplies), foundations (26%), businesses/entities (25%), and individual donors (18%).
We take every investment in our mission to heart, and strive to maximize each and every dollar we receive. We are proud of the fact that for every dollar donated, 91 cents directly supports the students we serve. In every sense of the phrase, The Bridge Teen Center is built by the community, for the community.
BECOME A MEMBER | OUR PROGRAMS | OUR MISSION | PROGRAM MAGAZINE
Our History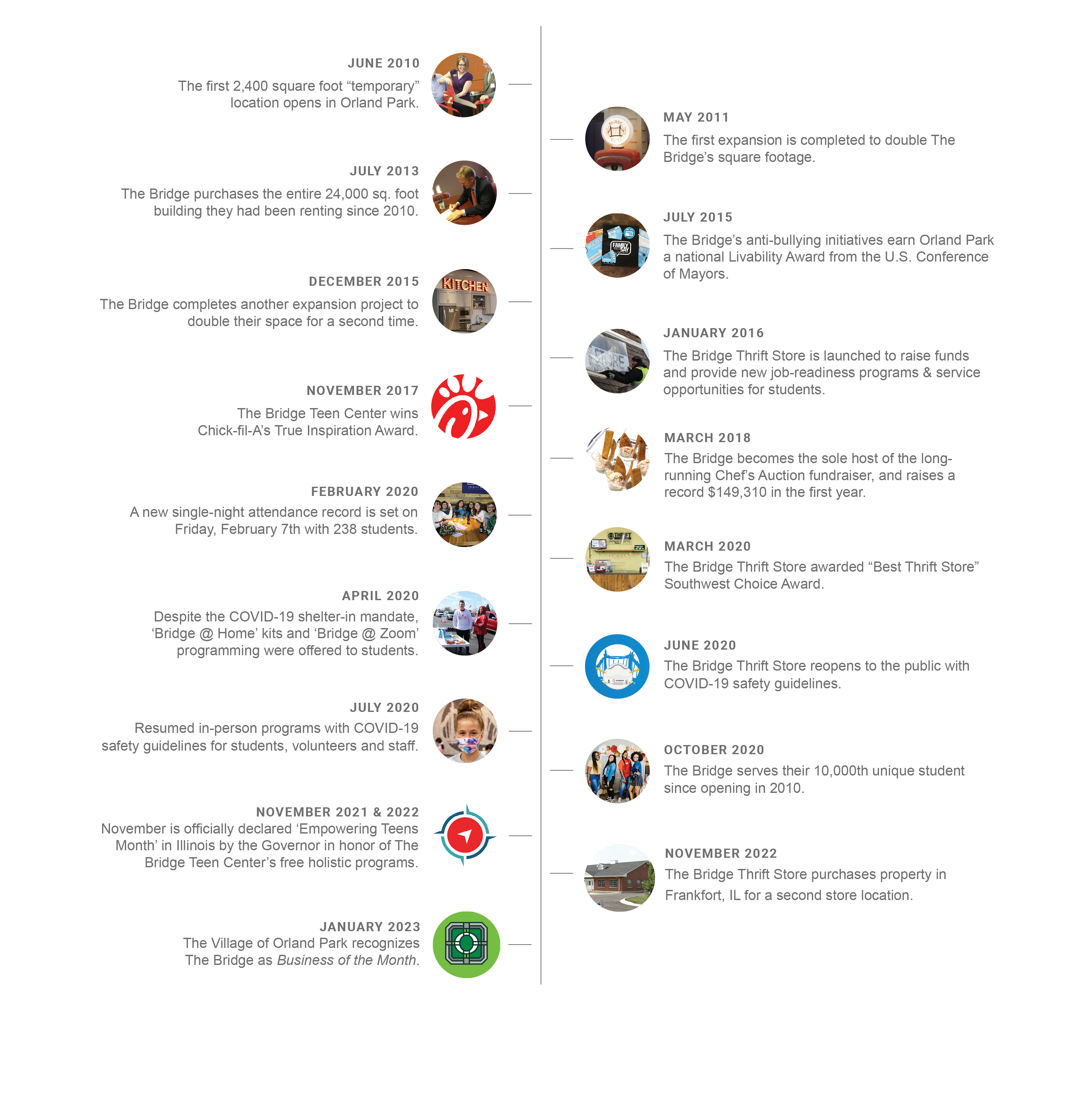 The Bridge Teen Center | According to our Alumni
Hear stories from Bridge Alumni about how their involvement helped shape who they are today. Scroll down for more videos.
Our Partners
Our Recognitions Include:
Parents
There is no denying that a parent is the number one influence in a child's life...however, The Bridge Teen Center realizes that in today's fast-paced world, parents sometimes can use help navigating through the teenage years. The free parent offerings are designed to support, encourage and provide valuable resources to parents and guardians of teens.

As part of our Community Connections bucket, we provide relevant resources focused on the teen years so families can enhance life at home and open up the lines of communication between parents/guardians and students. We regularly offer the following for parents:
Resource database for specific issues
"One Sheets" on relevant teen topics
Referrals for professional counseling
Supervision during work hours and holidays


.