---
With hundreds of volunteers involved at The Bridge Teen Center and The Bridge Thrift Store each year, it is no secret that the support of the community is what has propelled us into the national spotlight as a leader in the world of teen-specific afterschool programming. Our volunteers are part of our Bridge family, and we hope you will consider joining our team in whatever capacity you are able.
If you are part of a group that is interested in one-time or periodic volunteer projects (individuals or families are also always welcome), we would love to have you at The Bridge Thrift Store! Our amazing volunteers typically sort merchandise, organize the store, receive donations, work the cash register, clean glassware, stock merchandise and more. Contact us at 708.532.0500 or [email protected] for details.
If you are interested in volunteering at The Bridge Teen Center specifically, please call 708.532.0500 or [email protected]. More information about volunteer opportunities at The Bridge Teen Center are outlined below. Please do not hesitate to reach out if you have any questions or want to talk about how your passions or skills might be put to use at The Bridge. Click the button below for our volunteer application: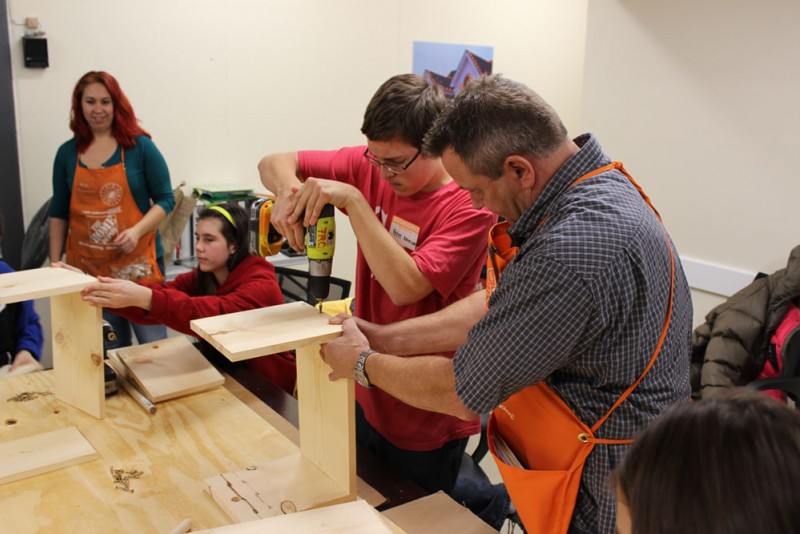 Ways to Volunteer
Levels of Involvement:
1. Facility Volunteer: During office hours (10–6, Monday-Thursday), volunteers can answer phones, file, enter data, prepare mailings, and perform other administrative tasks. While out in the community, volunteers can help promote The Bridge by distributing printed materials and posting on community bulletin boards.
2. Program Volunteer: Individuals, groups or businesses can volunteer to lead a program based on their interests, expertise and passions. Examples: teach an art class, lead a parent seminar, conduct music lessons, lead culinary demonstrations, or run a fitness program.
3. Bridge Volunteer: Students are drawn here because of the programs and events we offer, but come back because of the relationships we build with them. Whether serving weekly or monthly, Bridge volunteers connect with students and help provide a positive, fun and safe environment. Examples: weekly afterschool and monthly Friday night support.

Qualities of Levels 1-3 volunteers:
Agree with and support the mission of The BTC
Faithful, responsible, teachable and available
Qualities of Level 3 volunteers:
Faith/morals/values consistent w/ those of BTC
Honest about weaknesses in appropriate manner
Sense of humor and like to have fun
Understand the unique dynamics of age group
Willing to learn more about this age group
Genuinely love and enjoy students
Getting Started
The Bridge Teen Center wants every volunteer to serve based on their skills, interests, and passions. More importantly, we want your volunteer experience to be as fulfilling for you as it is for the students we serve. Every volunteer is required to complete an application, an in-person interview, and training (intensity of training depends on volunteer role). For the safety of our students, all volunteers who work with students are run through the national sex offenders list and are subject to background checks. To apply to volunteer, please click here.
"Most Wanted" Volunteer Roles:
Thrift Store volunteers (Mondays-Saturdays)
Afterschool bus drivers & sub drivers (T, W, Th)
Afterschool support (Tuesday, Wednesday, Thursday)
Tutors (Math, Science, English)
Friday night support (Once/month 7-11pm)
Sound tech for concerts (Once/month, 6-10pm)
Flyer Distributors (Palos, Oak Forest, Mokena, Frankfort)
Afternoon summer support (Ideal for college students)
Seasonal cleaning (Ideal for groups)
Video projects (Recording programs, Promo videos)
---

The Bridge Teen Center and The Bridge Thrift Store offer hands-on, real life experience to individuals looking to build or improve skills in: communication, personal and professional leadership, research analysis, project and time management, and leading students in a non-traditional educational setting. We offer internships in:
Psychology, Human Development or related fields
Human Resources
Marketing & Public Relations
Graphic Design & Multimedia
Business & Administration
Event Planning
Art
Youth Work/Youth Ministry
Retail Management or Merchandising
See a complete list of internship opportunities right here.
Application Deadlines
We have limited internship spots available, however, we are always searching for outstanding applicants to join our team. The Bridge has submission deadlines for internships in order for applications to be processed, reviewed and considered each semester or quarter. The next deadline is as follows:
Application Deadlines:

November 1 - Spring Semester (January - May)
April 1 - Summer Semester (June - August)
August 1 - Fall Semester (September - December)


Interview and Selection Process
Internship candidates all go through three stages of our selection process. This includes:
Phone Interview
In-Person Interview
Pre-Employment Assessment Test
A candidate may also be required to submit a portfolio of their work or complete a task or project (based on department) to showcase their abilities. Applications may receive a letter, phone call or email notification of the final decision rendered by the department.
If you interning for college credit, please make sure to provide the proper documentation that is required by your university's program. This must be provided to The Bridge in advance to be considered for an internship.
How to Apply
Applications for prospective interns are available here. The application is also available on our website under the "Volunteer/Intern" tab. Scroll down, and a link can be found on the right hand side of the page. This file must be downloaded, completed, then saved. Completed applications, along with resumes and cover letters, should be emailed to [email protected]. You will be contacted if your credentials match the needs of The Bridge Teen Center. This process may be prolonged due to the high volume of applications we receive. No phone calls or visits please.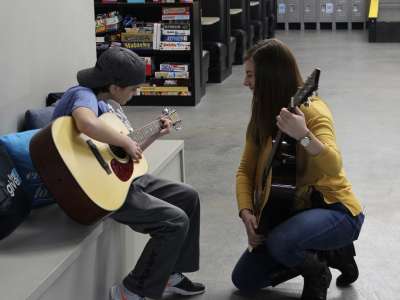 ---

Get community service hours any Monday-Saturday at The Bridge Thrift Store by sorting items, organizing inventory, and greeting customers. This is a year-round opportunity for individual students or student groups. Community service letters are issued to verify service hours. Ongoing committed positions are also available through our "Thriftastic" program. For more information about "Thriftastic", click here. For more information, contact us at 708.532.0500 or [email protected].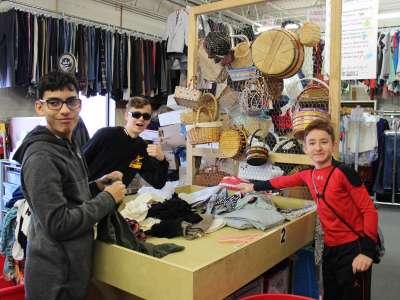 High School Volunteer Opportunities at The Bridge
Lead an afterschool program: Pick a talent or interest and help lead a program. Plan an art project, lead a cooking demo, or teach a musical instrument. Available to active Bridge students only.
Use a special skill: Are you good at something like photography, video, writing or decorating? Volunteer to help take pictures at events, decorate for special events, or assist with special projects.
Juniors & Seniors: Tutor and offer homework support to students in a subject you excel at or enjoy, or help set-up on Friday nights (5-7pm).
Spring Into Service: Inquire about how you can get involved with April's Spring Into Service group volunteer project initiative. For more information, contact Amanda Speakman at 708.532.0500 or [email protected].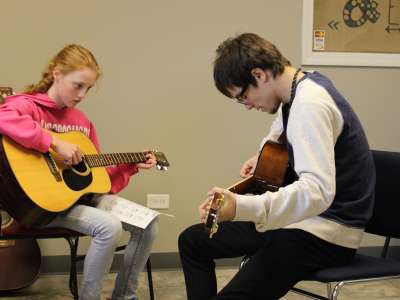 ---
For general inquiries, contact 708.532.0500 or

[email protected]

.