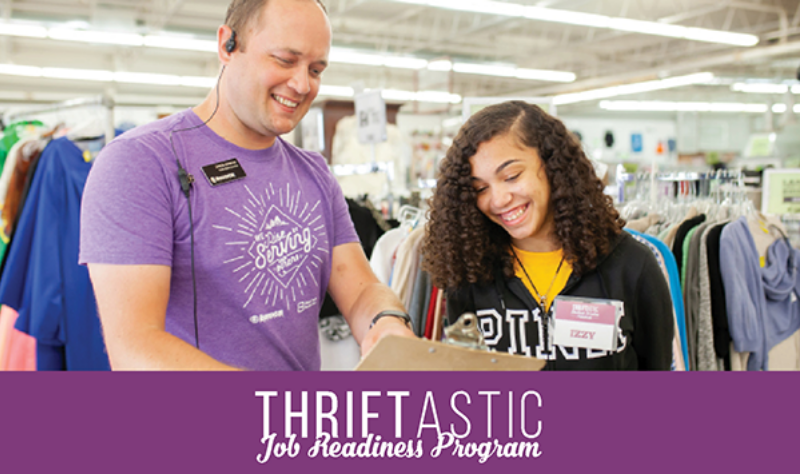 Accepting Student Applications for Winter/Spring
Attention students! Are you looking to make a difference this year? Are you looking to gain work experience and leadership skills in a fun and uplifting environment? If so, The Thriftastic Job Readiness Program is just for you.
Summary: All students in our Job Readiness Program commit to a set schedule at The Bridge Thrift Store for a minimum of 2 hours weekly (based on availability and capacity) after school or on Saturdays. Service includes:
Sorting and processing a variety of donations including: clothing, glassware, toys, home decor, books and more.
Relocating donations from our donation trailer into our processing area.
Greeting and helping our guests to find the treasure they are looking for.
Stocking, pricing & displaying donated items on the sales floor.
Why should a student apply?
Gain experience working in an exciting and fast paced retail setting.
Improve your communication with others in a team environment.
Develop leadership skills. Build valuable skill sets for your future and add service to your job or college application.
Help support the FREE programs at The Bridge Teen Center.
Get your foot in the door to potentially get hired on as a part-time paid student worker after successful completion of this program.
And so much more!
Application Process
All students will need to complete the brief job readiness application below.
We will reach out to you to schedule an in-person interview to discuss your area of interest and your potential schedule.
All students accepted into the job readiness program will be contacted with their start date and training details.
This opportunity is open to teens in 7th - 12th grade with an approved Bridge student membership. Not a member? Apply for a FREE Student Membership and select "Yes" to serving at The Bridge Thrift Store.

Applications must be submitted by Sunday, January 29, 2023.

The Thriftastic Job Readiness Program is sponsored by Macy's and Moraine Valley Community College.

For questions about the Job Readiness Program please contact:
Kelsey Salto
Job Readiness & Volunteer Coordinator
[email protected]
708.532.0500 Ext.108