Bridge @ Zoom Programs – May 11 - 21
Posted on May 4 2020 by Aaron Heldt
---

Thank you to all students who attended our first round of "Bridge @ Zoom" programming. As our "Stay-at-Home" order continues we will provide Bridge students with "Bridge @ Zoom" – virtual programming after school and Friday nights.
Program Sign-Up begins on Friday, May 8 at 3:00 p.m. right here on our website. Programs on Zoom will take place on Tuesdays, Wednesdays, and Thursdays during the week of May 11 and week of May 18 between the hours of 3:00-5:00 p.m. On Friday, May 15, we will have fun FNL group activities taking place on Zoom.

Click below to download our Program Guide to view exact program times and descriptions.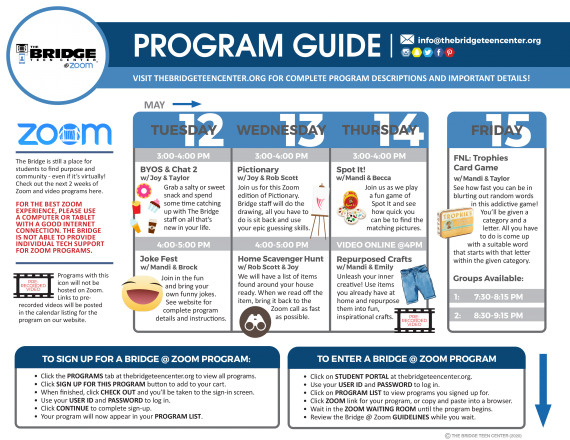 To sign up for programs, students will need their Bridge username and password just like previous semesters. Don't forget, program sign-up goes LIVE on Friday, May 8 at 3:00 p.m. Did you forget your password? No problem, we can help you. For assistance, please EMAIL [email protected]. Please DO NOT CALL our office as our staff is working remotely and your message won't be received.

Like all in-person Bridge programs, Zoom programs are open to current Bridge student members only. Not a member yet? No problem! Students who are currently in 7th – 12th grade can apply for membership at HERE. Students who have not yet technically graduated from 6th grade are not yet eligible to apply for membership – sorry!

For the best Zoom experience, we encourage all students to use a computer or tablet with a strong internet connection. Unfortunately, The Bridge will be unable to provide individual technical support for Zoom program access.