"Bridge at Home" Kit #2
Posted on Apr 9 2020 by Aaron Heldt
---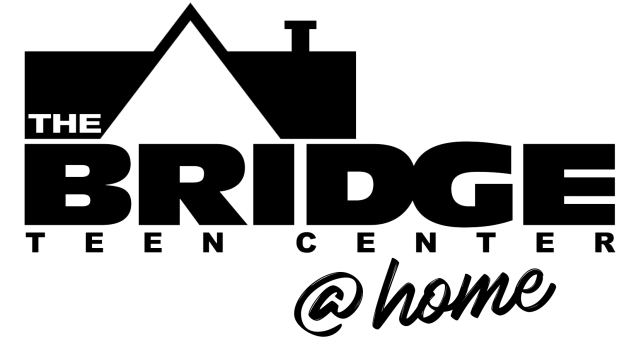 Kit #2 Is Here!
We are excited to launch our second "Bridge @ Home" kit for our student members and their families. Our second kit was developed with our mission in mind - to support teens mentally, physically, emotionally and spiritually. During this time while we can't get together, we hope this kit brings a little bit of The Bridge Teen Center home to you. This kit will include...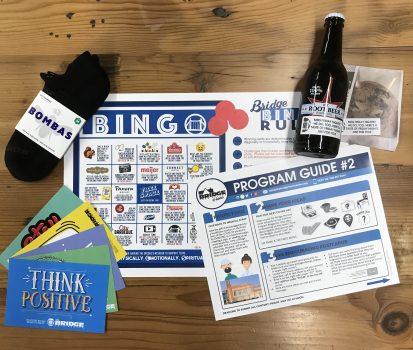 Bridge Bingo
Okay students, we are challenging you to play Bridge BINGO. Our version of BINGO includes all sorts of great activities, ways to support some of our restaurant and grocery store donors and much more. See the BINGO card and rules in your kit for complete details. Even if you don't care about the prize, we hope you'll consider playing!

Play Bridge BINGO and Win!
Ten student winners will receive a Bridge Teen Center "VIP Café Card," which provides you with one free beverage and one free snack at the café ever week for the entire summer semester (June-August). If a student completes the ENTIRE CARD, they will automatically win the "VIP Café Card" prize.
A Taste of Friday Night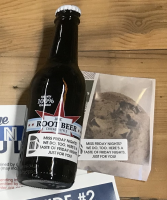 We're excited to include some other surprise elements in this kit that will bring a little bit of Friday night home for our students. Everyone is missing our Friday night gatherings of 150-200+ students, and we can't wait to get back to normal. In the meantime, this kit will include one bottle of our popular root beer and one freshly baked cookie from our friends at Panera as a little reminder of our weekly Friday night fun!
A New Family Game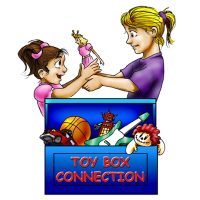 Also included with this kit will be one brand new board game or card game for each student who picks up a kit. These games were provided to The Bridge Teen Center by our friends at Toy Box Connection. We are incredibly grateful for this support, and we can't wait to start receiving photos of your families enjoying these games.
How to Pick-Up
Sorry, all our kits have been distributed! See details below for elements of the kit that are downloadable.
How to Download a Kit
If you weren't able to pick-up a kit, you can click below to download kit elements. You'll miss some treats, Bombas socks, a board game, and printed postcards but it's better than nothing. The postcards are in PNG format, so you can easily share them on social media or through email. If you share these on social media, please tag us! The BINGO card and Program Guide are PDF documents in standard letter size so they can be printed at home.

Program Guide Kit #2
FAQ:
Can I come in to tour The Bridge Teen Center? We are so grateful for your interest in seeing our space; however, for the safety of our team, we ask that you schedule a tour at a later date once the COVID-19 pandemic has ended. We appreciate your understanding.
My son/daughter is not a member of The Bridge. Can I still come and pick-up a kit? We are only offering take-home kits to current students that have Bridge memberships. However, students in 7th–12th grade can apply for a free membership here. Once your membership has been approved (we'll give you a call) you can pick-up your kit, while supplies last. Anyone can also download a (partial) kit below.
Can students still fulfill community service hours at The Bridge Thrift Store? The store is temporarily closed in an effort to keep our guests, volunteers, students and staff safe. If you are interested in scheduling community service for when the store reopens, contact Kelsey Van Dyken, our Volunteer and Job Readiness Program Coordinator at 708.532.0500 Ext 108 or [email protected]
How long will The Bridge be closed? Read our latest COVID-19 statement here.