Tiramisu
Posted on Jul 31 2017 by Rob Steinmetz
---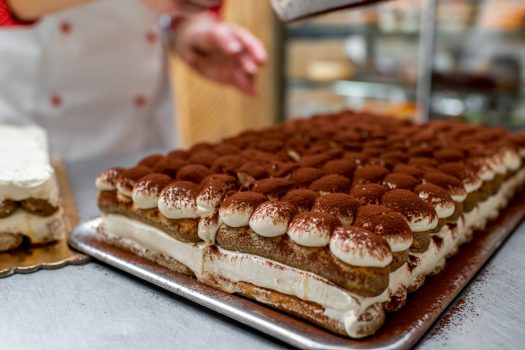 Ingredients | Yield 18-20 servings
Prep time: 30 min
7 cups of cold coffee
4 cups mascarpone cheese
1 1/3 cup of whole milk
8 tablespoons creme fraiche or sour cream
12 teaspoons alcohol-free vanilla extract
4 tablespoons powdered sugar
60 ladyfingers
4 chocolate shavings
4 tablespoons cocoa powder
Directions:
Make coffee and set it aside in a large bowl to cool.
Using a deep bowl and strong whisk or a stand mixer with the whisk attachment, mix the mascarpone, milk, crème frâiche, and vanilla extract. Add powdered sugar and mix well. It should be the consistency of pourable cream; add more milk, if needed (1/2 teaspoon at a time).
Line the bottom of a square glass dish layer with the mascarpone-milk mixture.
Soak each lady finger cookie one by one in the coffee for about 6-10 seconds, or until the cookie has absorbed enough coffee but it's still firm enough to set flat in the glass pan.
Line the pan with one row of soaked cookies. Next, add the mascarpone mixture and smooth over with a spatula. Repeat this one more time, or until all of the cream and cookies have been used.
In a separate bowl, mix the cocoa powder with the chocolate shavings. Dust the top layer of the dish with this mixture.
Refrigerate for at least one hour before serving, or overnight, giving it time to set.
Cut and serve chilled either on small plates or in small cups.