How to make Chuy's Tres Leches Cakes
Posted on Nov 13 2019 by Aaron Heldt
---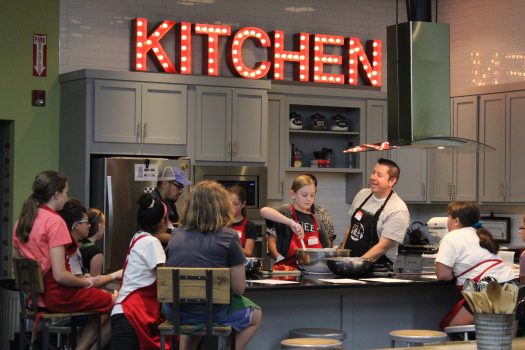 The friendly, energetic Chefs at Chuy's taught students how to bake a melt-in-your-mouth sweet sponge cake, soaked in "three milks" (literal Spanish translation). Want to make this? Here is the recipe.


1. Eggs 12 ea.
Separate whites from yolks – hold whites for later use.
2. Sugar 3 cups
Add sugar to yolks and beat with hand mixer until smooth.
3. Flour 3 cups
4. Baking Powder 1TB + 1 ½ tsp
5. Vanilla 1TB + 1 ½ tps
6. Whole Milk 1 ½ cups
Add flour, baking powder, vanilla, milk, and mix well to form cake batter.
7. Egg Whites 12ea
8. Salt ¼ tsp
In a new bowl whip the egg whites and salt until form peak.
GENTLY fold egg whites into cake batter with a rubber spatula.
9. Margarine 1TBS + 1 ½ tsp
Grease pan with margarine and pour in cake batter with a rubber spatula. Bake at 350 for approx. 30-40 min. Insert a toothpick to check for doneness.
Remove cake from oven and poke holes every inch with a small knife.
10. Evaporated Milk 14 oz can 3ea
11. Condensed Milk, 14oz can 1 ½ ea
12. Heavy Cream 3cups
13. Vanilla 1 TB


Combine ingredients and mix well. Pour this mixture over the cake. Cool down for 24 hrs before cutting cake.