Fresh Homemade Pasta
Posted on Jul 14 2017 by Rob Steinmetz
---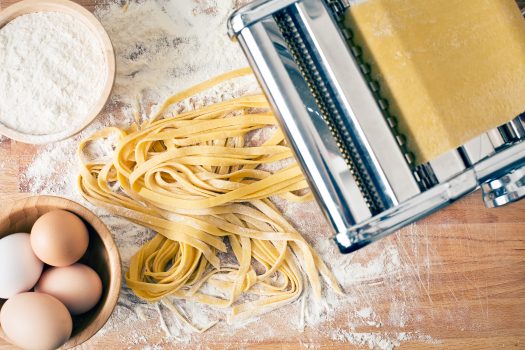 Roasted Tomato Sauce

2 lbs cherry tomatoes
3 cloves garlic 2 Tbsp olive oil
1 Tbsp dry oregano
to taste salt and pepper
for serving parmesan cheese
Toss all ingredients together.
Roast at 425 F until the tomatoes are soft and juices release
Blend to desired consistency.
Adjust seasoning and serve.
Pasta Dough

9 oz all purpose flour
3 oz semolina flour
4 ea. eggs
1 tsp salt
1 Tbsp olive oil
Stir together the all purpose and semolina flour with the salt.
Create a well in the center.
Add the olive oil and crack the eggs into the well.
Whisk the eggs together in well.
Gradually whisk wider to incorporate the flour.
Using your hands, knead the dough until it comes together in a smooth, dry ball.
Wrap and rest at least 15 minutes.
Roll out and cut into desired shapes. *Dough can be frozen in bulk. Noodles can be dried and frozen. Noodles can be cooked fresh.