The Importance of Community Service in a Teen's Life
Posted on Feb 17 2021 by Aaron Heldt
---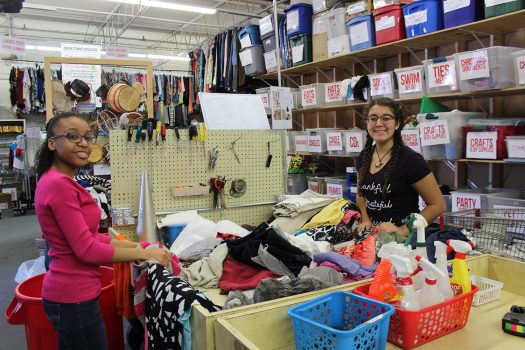 Teenagers today lead very busy lives between school, extracurricular activities, and part-time jobs. It is amazing that they can find time for anything else! Many students work hard to find time to volunteer at different nonprofit organizations, too. These include animal shelters, health care centers, soup kitchens, Habitat for Humanity, and other community centers. Studies are finding that community service opportunities offer many different benefits to students, as well as to the communities they serve.
What are the Benefits of Community Service?
Performing community service has been shown to offer a number of benefits for young people before, during, and even after their high school years. The benefits of volunteering can have a holistic effect on students' lives—professionally, educationally, and personally.
Professionally
The community service projects that students perform during their teen years could benefit them when they begin their job search. Volunteering teaches valuable skills they wouldn't be able to learn in a classroom. Examples of these skills include better communication, teamwork, creativity, problem-solving, and time management. Employers tend to look for candidates who have obtained skills in these areas.

One study conducted by the Corporation for National and Community Service found that having volunteer experience on a resume boosts chances of finding a job by 27%. Students who complete high school or college normally find that they have not yet gained a great deal of work experience. What they do not realize is that volunteer experience is just as valuable. These learned volunteer skills easily transfer over to a job. As a result, students who list community service activities on their resume can have an advantage over those who do not.

Students also create important connections that guide them to different career openings later in life. Contacts made through volunteering often lead to letters of recommendation, references, and help with finding job opportunities. At the very least, students can practice their networking skills. This will be a huge benefit to them throughout their lives.

Educationally
On top of the career benefits, there are many educational benefits to serving. One study analyzed data from the National Education Longitudinal Study and found that students who volunteered did better in reading, history, science, and math and were more likely to complete high school. This is because students are able to see how their schoolwork applies to the real world, keeping them interested in what they are learning.

Volunteer experiences can also give students an advantage on college admissions and scholarships. Admission into colleges and universities has become more competitive over the years. Service-learning projects listed on college applications offer students an advantage over others. Many students begin serving in high school, but students who serve even earlier have an even greater advantage. Their length of experience usually leads them to hold higher positions within the organization they are serving. This proves impressive to colleges looking for responsible, hard-working students to admit.

Likewise, students are able to earn scholarships through community service programs. This is a great way for students to set themselves apart and impress scholarship providers by showing their interest in helping the community. Regardless of whether a scholarship is labeled as a specific "community service" scholarship or not, students have a better chance of winning when they list volunteer experience.

Personally
Community service even benefits students at a personal level. Through their service, students are given the opportunity to work with a variety of diverse people. This helps them develop a sense of social awareness. They learn patience and empathy while getting to see first-hand how they can have a positive impact on their local community.

Volunteer work has also shown to offer mental and physical health benefits for young people. Whether working with a group of people or with pets at an animal shelter, it can reduce stress and anxiety while improving one's well-being. Researchers have discovered humans are hard-wired to give to others. This means the more students give, the happier they feel. Students can increase their self-confidence through the feeling of achievement they get from donating their time. Staying physically active while volunteering has shown to lessen symptoms of chronic pain, reduce the risk of heart disease, and lower a person's mortality rate.

Additionally, volunteering is a great way for students to make new friends who have similar interests. Meeting regularly with others boosts a teens' social skills and give them confidence. Volunteering can strengthen a teen's relationships with family members, when everyone serves together.

How Does Community Service Affect A Community?
Volunteerism has the power to create a mutually beneficial relationship between students and organizations in the community. Organizations are provided with cost-free service by their volunteers. This helps keep their operations running while saving money. At the same time, students are able to feel a unique sense of fun and fulfillment as they contribute to a meaningful cause.

Where Do I Start?
There are plenty of places for teens to find volunteer opportunities. To find a good fit, teens should first ask themselves a couple of important questions:
"Who would I like to work with?" - Some students may feel more comfortable working with children, while others would rather work with adults. Students should also consider if they would be comfortable working with animals or even possibly remotely from home. This first step can help significantly narrow down a pool of volunteer opportunities for a student.
"How much time do I have to commit to serving?" - Take a serious look at how much time a student is available to give to an organization. It is better for a student to be honest with how much time they are able to give to an organization, rather than try to do too much. Research has also shown that 2-3 hours of community service per week (roughly 100 hours each year) can deliver the most benefits for both volunteer and organization. Organizations never want their volunteers to feel overworked or stressed. Ultimately, volunteering should feel like a fun hobby rather than a chore.
"What skills can I bring to a volunteer job?" - Students should take the time to evaluate the skills they already possess that would benefit potential organizations they would serve. These skills range from hard skills, such as writing or math abilities, to soft skills, like communication and patience. No skill is too small or insignificant. Organizations need all kinds of people. Having an idea of what special skills they possess helps a student find the right fit.
"What am I interested in?" - Students should take into account the things that interest them or new skills they would like to learn when picking a place to volunteer. For example, a student who does not enjoy history or science would probably not enjoy serving at a museum or national park. A student who cares about animals and the outdoors might look into community service at a local animal shelter. If a student is interested in the volunteer work they are doing, it is likely to be a more enjoyable experience for them.
"What are my goals for volunteering?" - Students need to consider what they would like to take away from their community service experience. For example, are they looking to meet a new group of people, try a new type of work, or learn a new skill?
An organization that lines up with a student's interests and goals, as well as the time they can give and skill set, is an ideal match. While this may seem like a daunting task to find, there are many resources available to help students. Sites like VolunteerMatch are great resources to help students find opportunities in their area. Students can speak with a guidance counselor or school administrator for suggestions of organizations where they can increase their community involvement.
The Bridge Teen Center offers opportunities for middle school and high school students to serve at The Bridge Thrift Store through its innovative "Thriftastic" Job Readiness program. This program asks students to commit 2-3 hours each week serving in the thrift store. Students are led through a training booklet that will increase their personal development while gaining valuable job skills they will use throughout their lives. This program can even open up employment opportunities for students with The Bridge Thrift Store. Currently, four former Thriftastic students are now serving as part-time staff members, due to their heart for volunteering.
While student positions are limited, the Thriftastic program is open to teens in 7th through 12th grade with an approved Bridge Teen Center membership application on file. Students can also schedule service hours at the thrift shore separate from the Thriftastic Program. Membership is FREE to all eligible students.