Where Can Teens Find Volunteer Opportunities
Posted on Oct 26 2020 by Aaron Heldt
---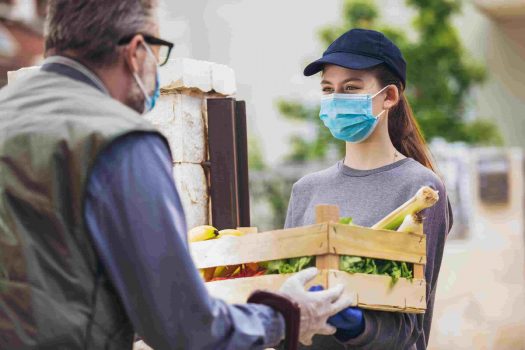 There's no doubt that volunteering is a valuable and important experience for teens, but it can be a little overwhelming to know where or how to volunteer. This is an even more challenging question as the COVID-19 pandemic has upended our lives and forced us to change how we live and even what the school experience is like for the average teen. It's precisely during these challenging times that volunteering is perhaps most important, as the needs of our communities are more pressing than normal. Though the pandemic is temporarily making some volunteering opportunities harder to come by, there may be virtual volunteering opportunities available in your community. But, however you're able to volunteer, there remain numerous ways to make a difference in the world.
Benefits of Teen Volunteering and Community Service
Though any particular community service opportunity can be valuable on its own merits, the act of volunteering itself is also fundamentally beneficial for the growth and character of the teen who volunteers. In addition to making a difference in the community, volunteering can provide a unique sense of purpose for a teen at a formative time in life. In fact, research has shown that acts of kindness toward strangers can have a powerful long term benefit on the self esteem of teens that participate. Moreover, other studies have shown that, in general, people who volunteer tend to have longer and healthier lives. But the list of reasons to volunteer doesn't end there:
Learn New Skills: One of the most exciting parts about volunteering for teens is the chance for them to step into a new environment or industry that exposes them to different types of work and activities. This is an especially valuable benefit for teens as they're just beginning to consider potential career paths; the skills learned through volunteering opportunities can help open up career possibilities that weren't even on their radar before. In a more practical sense, volunteering can be a valuable asset on a resume and in interviews with a potential employer.


See the World in a New Way: Sometimes just being in a new volunteer setting can help a teen see the world around them in a totally new way that opens their mind to new and exciting possibilities. This can include experiencing a new part of the community they live in or even experiencing a new part of the world. This is especially powerful when teens get to meet people who have had a different experience of life and can teach them a new perspective.
Increased Happiness: Just as with improvements to health, studies have shown that people who volunteer tend to be happier and more content with life. It is believed that volunteering can help a teen build the kind of empathy and gratitude that are associated with happiness and a fuller experience of life.
Increased Self-Confidence: Being a force for good in the community can provide a sense of achievement that boosts self-confidence and self-esteem; having such a sense of healthy pride in their volunteer work can have a profound effect on the way a teen sees their future life goals.
Make New Friends and Contacts: Perhaps one of the enriching aspects of volunteering is the people teens will meet along the way. Whatever organization or group they choose to volunteer with, they'll get the chance to meet new people who can become friends and colleagues. Sharing a volunteer experience with other teens strengthens social bonds between them and among the community in surprising ways.
Teen Volunteer Ideas
The good news about volunteering is that there will never be a lack of opportunity or variety. You can find a nonprofit organization or group that connects with almost any interest. Volunteer programs are plentiful; all it takes is making the choice to reach out and finding an opportunity to devote some time to making a difference. Below are some ideas for teen volunteer opportunities that represent real needs:
Habitat for Humanity: Founded in the 1970s, Habitat for Humanity has been building and improving homes for families in need all over the world. From helping young families procure their first house to improving the homes of older adults to achieve a higher quality of life, volunteering with Habitat is an opportunity to help in a highly tangible way. And because of their international reach, you can choose to volunteer locally or in one of the 70 countries across the globe where Habitat is active.
The American Red Cross: The Red Cross is another organization with a long history of helping those in need. Since the 1880s, they have focused their efforts on providing services to the United States armed forces and providing disaster relief to the victims of natural disasters, famine, and disease. Volunteering with the Red Cross means going out into the world to help people who are experiencing some of the most challenging crises that humans can face.
Humane Society: The Humane Society of the United States exists to protect all animals that are at risk and that need protection from inhumane practices and industries. From stopping the cruel treatment of dogs in so-called 'puppy mills' to promoting better wildlife management, the Humane Society offers countless opportunities to improve the lives of animals all over the world. If you love animals, the Humane Society can offer the chance to make a real difference.
Animal Shelters: Where the Humane Society's reach is broad and international, your local animal shelter is another opportunity to give your time to help care for animals that have been abandoned or abused. Volunteering at an animal shelter can involve feeding, walking, grooming, and even playing with pets that have in many cases only seen cruelty from humans.
Soup Kitchens: Homelessness is a serious problem all across America, and feeding the homeless is an ongoing challenge that only works when people give up some of their time to volunteer. Serving at a soup kitchen is also a great way to see an immediate and direct result of your actions as you help ensure that a hungry person gets a hot and healthy meal. In addition to serving food, volunteering at a soup kitchen can also provide the opportunity to learn and use food preparation skills.
Nursing Homes: Caring for our elders is a responsibility that we all share, and nursing homes provide plenty of opportunities to do just that. While the facility's staff is primarily charged with tending to senior's health and accomodations, volunteers can provide the kind of social interaction that both mentally stimulates and brings smiles to their faces. Sometimes this means sitting and having a conversation, and sometimes it means helping facilitate a fun activity; however you choose to help, you'll be bringing light into the life of an appreciative senior.
National Parks: The United States has 421 national park sites scattered around the country, and they all have opportunities for volunteers to give their time and energy. From one-time events to ongoing volunteer positions, nature lovers have many options to get out into the parks and help make them cleaner, safer, and more accessible to visitors. If your passion is nature, volunteering at a national park is a dream come true.
Food Bank: For those who really want to volunteer but aren't very outgoing or comfortable with meeting a lot of new people, a food bank provides a different kind of opportunity. Food banks and food pantries are non-profit organizations that store and distribute donated food for people in need. Volunteering at one of these organizations typically involves assisting with sorting and packing food as well as delivering meals either directly to people or to smaller distribution centers. It's a great way to meet an ongoing need in a different way.
Local Library: Local libraries are typically funded by local taxes and donations, but those resources are rarely enough to meet all their needs. Because of this, many libraries rely on volunteers to help with sorting, shelving, and running programs and activities for the local community.
How to Find Volunteer Opportunities for Teens
In addition to contacting any of the organizations noted above, there are now services like VolunteerMatch that help match people up with opportunities based on their passions and interests. Even now, in the midst of the COVID-19 pandemic, organizations still need volunteers and virtual volunteers to do the work that will help those who are most in need.
We are another resource here at The Bridge Teen Center for those specifically in Chicago Southland and Northwest Indiana. We offer free programs and activities for teens from 7th grade to 12th grade that help them explore interests and participate in a healthy social environment. In addition to The Bridge Thrift Store, our sister organization that gives teens the chance to volunteer and get job readiness training, we offer volunteer projects all year long that are a great environment for students to learn valuable skills while giving back to the community.