Chicken Parmesan Wraps
Posted on Jul 5 2017 by Lyndsey Dulfer
---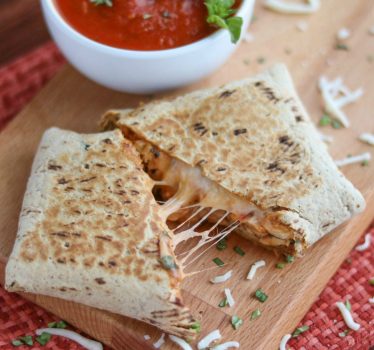 Ingredients | Yield 10 wraps
7 chicken breasts, shredded
1 Tbsp Italian seasoning
1 Tsp salt
¼ Tsp of black pepper
2 cups of marinara sauce
1 Tsp dried basil
10 tortilla shells
2 cups mozzarella cheese, shredded
Non-stick cooking spray
Directions:
Bake chicken breasts in the oven at 350 degrees for 1 hour until juices run clear and there is no pink.
Shred chicken using two forks.
Place shredded chicken in large mixing bowl. Add Italian seasoning, salt, black pepper, marinara sauce, and basil. Stir well.
Place 1 tortilla shell on a flat work surface and sprinkle ¼ cup of cheese down the middle. Spread ½ cup of chicken mixture on top of the cheese.
Fold tortilla shell inward toward middle, then fold long sides inward, making a closed wrap.
Repeat with remaining shells.
Preheat electric skillet to 350 degrees. Spray skillet with non-stick spray and cook the wraps until golden brown.
If desired, serve with additional marinara sauce.