The Bridge Thrift Store Voted Southland's Best
Posted on Nov 9 2023 by Summer Lecas
---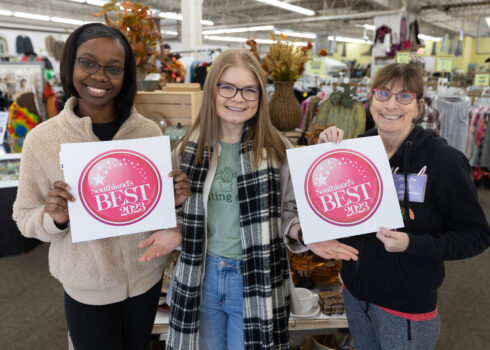 For the third consecutive year in a row, The Bridge Thrift Store has been voted BEST Antiques, BEST Boutique/Gift Shop and BEST Thrift Store/Consignment in the 2023 Southland Times "Best" competition. Votes were cast online in the community throughout June and July at nwitimes.com.
"Receiving these awards mean so much and our team is truly grateful," said Bridge Thrift Store Director, Jason Marion. "The entire team of students, volunteers and staff work very hard to create a memorable shopping experience for our guests and we are honored that the community has voted us the best."

The Bridge Thrift Store has been open since 2016 and is the sister organization to The Bridge Teen Center. Over 30% of the teen center's operating budget comes from revenue made at The Bridge Thrift Store. The thrift store's mission is to provide ongoing community service and job readiness training opportunities for students. Known as the "Thriftastic Job Readiness Program" this program helps students to gain real life work experience and develop personal and professional leadership skills.
"Our job readiness program is having a great impact on students," shared Kelsey Salto, Thriftastic Job Readiness Program Coordinator at The Bridge. "It allows students the opportunity to develop foundational skills, gain experience, and grow a heart of service. This award speaks to the work these students are doing on a daily basis."
Volunteering at The Bridge Thrift Store is not limited to only students. The thrift store is always seeking amazing volunteers from the community to help with different tasks around the store. Volunteers help with sorting clothing, processing and cleaning glassware, driving the donation truck, processing jewelry, and serving as a store greeter. All volunteers are asked to complete an application, interview, and position training. More information can be found on the thrift store's website.
"Thank you so much to everyone who voted for The Bridge Thrift Store this year," continued Marion. "We are honored to receive this recognition and can't wait to see what the future has in store!"
The Bridge Thrift Store is open Tuesdays and Thursdays from 10am to 7pm and Wednesdays, Fridays, and Saturdays from 10am to 5pm. To learn more about our store including volunteer opportunities, donation pick-up, shopping and more, visit bridgethrift.org.