Teen Center Alumnus Returns to "Pay it Forward" For Next Generation
Posted on Jun 9 2021 by Aaron Heldt
---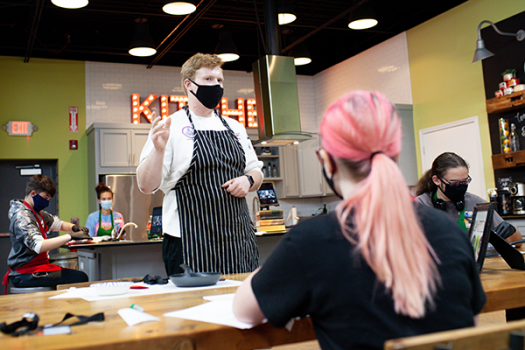 Louis Kerfman is a former student of The Bridge Teen Center who attended culinary programs every chance he could as a 7th-12th grade student. Today, he is studying at Joliet Junior College to become a chef and credits a big part of his love for culinary arts to his time spent in The Bridge's kitchen. Now as an alumnus, Louis returned to The Bridge to teach students how to make omelets and share his love for cooking.
"The amount of guidance [I received] really pushed me in the path I am on now. Without The Bridge, I'm sure I would've found it," said Kerfman. "I wanted to be able to be that guide in these upcoming students' lives. I want to be able to show them the fun part of what we can do in the kitchen."
Kerfman has been a part of The Bridge family since 2013. In addition to participating in many free culinary programs, He also participated in The Bridge's Student Ambassador program, where he was mentored by staff members as he helped with programs and events. "My favorite thing about The Bridge as a student was just how warm, welcoming and inviting everybody was, " said Kerfman. "No matter what you were doing, where you were at, or who you were with, everybody was always there to either help you, hang out with you, or just...be able to be there with you."
Graduating from high school meant that Kerfmans' time as a student had to come to an end, but that didn't mean his relationship with The Bridge was over. "As an adult and alumnus, I am lucky enough to be involved in the fact that I can come back and teach these programs. I am able to serve the next generations of students through The Bridge."
The Bridge Teen Center provides a safe place for teens to develop in a holistic way and to find hope, purpose, and direction in their lives. Each year, more than 350 different programs and events are offered. Since 2010, more than 10,400 different students from 128 neighboring communities have been reached.
"Louis's story is a great example of exactly why The Bridge was created," said Founder and Executive Director Priscilla Steinmetz. "We are here to serve our students and meet them wherever they are at - whether that means helping them find a career path they'd like to pursue, helping them connect with others, or simply providing them with a safe place to just be themselves."
Kerfman's advice to any teen considering joining The Bridge would be to "jump right in headfirst." "[Joining The Bridge] was probably one of the best decisions I personally made… It was a great place to meet people not only my age, but also to be able to grow with those people." Kerfman continued, "I still talk to people that I met here. They've become some of my closest friends. It's a great place to be."
"We are continually striving to be a place where students can not only be, but become," said Steinmetz. "It is our hope and prayer that as we continue to grow, each student we serve, like Louis, will have their own story of how The Bridge impacted their lives for the better."
All Bridge programs and events are FREE to teens currently in 7th-12th grade with an approved student membership. Students who will be entering 7th grade in the Fall are eligible for membership this Summer. Students that are not members can apply for a free student membership at www.thebridgeteencenter.org or by calling 708.532.0500.
The Bridge Teen Center is a nationally-recognized nonprofit community center that is designed around the needs and interests of teens in the suburbs, providing free holistically-designed afterschool programs and a safe environment for Friday night entertainment. The Bridge is governed by a volunteer Board of Directors and is funded by individuals, businesses, churches and foundations in the community.