Local Teens Get Exclusive Look at High-Tech Dentistry
Posted on Aug 20 2021 by Aaron Heldt
---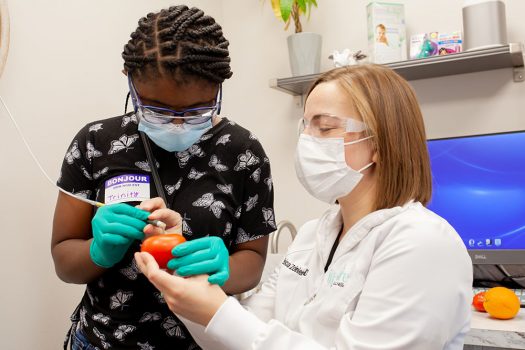 Orland Park, IL - Students at The Bridge Teen Center recently paid a visit to the office of Inspire Dental Wellness, located at 14512 John Humphrey Drive in Orland Park, to learn more about high-tech dentistry. Inspire Dental chose to give their undivided attention to the students, opening exclusively to teach them about the different pieces of technology they use to care for their patients.
During the free program, students learned about smile simulations, created a 3D recreation of a mouth, and used the office's special laser to write their names on a tomato. "That was my favorite part of the program," said eleventh grade student Alex Coe. Furthermore, students tested the pH levels of different brands of bottled water, learning that certain pH levels are more likely to cause cavities. "It was interesting," said Coe. "They took the time to [tell us about how bottled water affects your teeth], rather than focusing on things that physically get in your teeth."
Inspire Dental Wellness owner and lead dentist Dr. Erica Zolnierczyk was happy to open her office to share some new experiences, and hopes that they were able to inspire the students to further explore a career in the dental and/or medical field. "It may be cliché, but [teens are] our future," she said. "It's a time when [they're] learning and figuring out some likes and dislikes, so exposing students to all those things is important. We're happy to help in any way we can."

Inspire Dental and The Bridge Teen Center have had a wonderful partnership since Dr. Erica first toured the teen center in 2019. "We were super impressed and we wanted to take all the classes (programs) that were offered," said Dr. Zolnierczyk. "We think it's super important to have a fun, safe place for teens to go to hang out." Inspire Dental has supported The Bridge Teen Center in many ways since 2019. In addition to the wonderful tech program they recently led for students, the entire Inspire Dental team has regularly served at The Bridge Thrift Store sorting donations during The Bridge Teen Center's October Drive Out Bullying Initiative. They are also a frequent sponsor for The Bridge Teen Center's educational support after school programs.
"The Bridge Teen Center has always been a place built FOR the community, but oftentimes people don't realize that it was and still is being built BY the community, as well," said Priscilla Steinmetz, Bridge Teen Center Founder and Executive Director. "We are so grateful to have the support of so many amazing local businesses, like Inspire Dental Wellness. They are the reason why we can invest in the lives of our teens."
Coe also had a special message to share with Inspire Dental after their program: "Thank you. Just thank you. [You] took the whole day...just for us to come through and get that experience. So just a really big thank you to [you] and I wish you guys nothing but the best."
All programs and events at The Bridge Teen Center are FREE to teens currently in 7th-12th grade with an approved student membership. Students that are not members can apply for a free student membership at here.

For more information on sponsorship opportunities or ways to partner with The Bridge Teen Center investing in the lives of local teens, visit thebridgeteencenter.org/donate or email [email protected].