Local Teens Gain Green Thumbs During Gardening Week
Posted on May 25 2021 by Aaron Heldt
---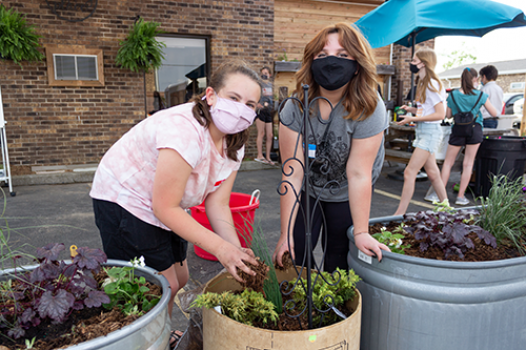 The Bridge Teen Center celebrated the arrival of Spring by hosting "Gardening Week" for its 7th-12th grade students during the week of May 17. Led by the organization's Founder and Executive Director, Priscilla Steinmetz, this week focused on engaging and educating students about holistic gardening practices. Gardening has been cited by mental health experts to be a positive outlet for teenagers, which the organization aimed to capitalize on during this week.
"Gardening offers so many physical, mental and emotional benefits to students, and those benefits are needed as we come out of the pandemic," says Steinmetz. "These programs helped students get their hands dirty, pick up some valuable STEM know-how, discover new ways to reduce stress and connect with the Earth, and gain a sense of accomplishment working alongside their peers."
Priscilla is an avid gardener in her personal time, and greatly enjoys sharing how this hobby can be a stress-reliever, point of spiritual connectivity, and source of healthy food. Gardening Week allowed her to merge her love of gardening with her passion for working with students, creating some unique, fun programs. During the DIY: Herb Garden program, for example, students learned about healthier eating habits while repurposing old dresser drawers to create their own seeded herb garden. In another program, students worked to plan out their own veggie gardens at home. The week finished off with students working together to plant veggies, herbs, and flowers in The Bridge Teen Center's outdoor garden, which they will be able to care for as they return to The Bridge throughout the summer.
"We hope that those students who attended our "Gardening Week" programs discover a new passion and interest in gardening - maybe even bringing some of what they learned home to share with parents and siblings," continued Steinmetz.
All Bridge Teen Center programs and events are FREE and open to teens currently in 7th-12th grade with an approved student membership application on file. Students who are graduating 6th grade this year and entering 7th grade in the Fall will be eligible for membership this coming Summer. Students that are not members can apply for a free student membership at www.thebridgeteencenter.org or by calling 708.532.0500.
The Bridge Teen Center is a nationally-recognized nonprofit community center that is designed around the needs and interests of teens in the suburbs, providing free holistically-designed afterschool programs and a safe environment for Friday night entertainment. Over 10,000+ different students from 128 different communities have been served by The Bridge since 2010. The Bridge is governed by a volunteer Board of Directors and is funded by individuals, businesses, and foundations in the community.