Bridge Teen Center Students Try A New Sport
Posted on Oct 27 2021 by Aaron Heldt
---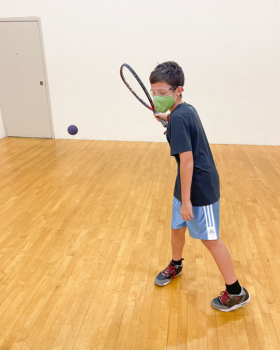 Middle school and high school students from The Bridge Teen Center traveled to Silver Lake Country Club in Orland Park last month for the unique opportunity to learn and play racquetball. Although many of the students had heard of the sport before, few actually had the opportunity to play it.
"I signed up to do this in order to have some fun and find something new to do," said 9th grade student Joseph Awinongya.

Racquetball is played on a 4-walled court with a short-handed racket and a larger hollow rubber ball. Unlike tennis and badminton, there is no net to hit the ball over. The court's walls, floor, and ceiling are legal playing surfaces, with the exception of court-specific designated hinders being out-of-bounds. Because of the special court needed to play on, racquetball is often not a sport students get to experience at school.

The staff at The Bridge work hard to offer around 350 programs year-round to its students, many of which are unique opportunities that teens would probably not be able to have elsewhere. These programs work to uphold The Bridge Teen Center's mission to develop teens in a holistic way - mentally, physically, emotionally, and spiritually. The organization aims to offer a safe place for students to find hope, purpose, and direction for their lives.
"We are all holistic creations," said Priscilla Steinmetz, Founder and Executive Director of The Bridge Teen Center. "Our goal through all of the programs that we offer, even if it's something seemingly simple as racquetball, is to lead students to experience different areas of themselves. Whether it's mentally, physically, emotionally, or spiritually we want to help them learn to balance life in a healthy way."
"Even if you're really bad at something, other people will be really supportive...I just love going to Bridge programs," said 7th grade student Leah Martin.
The Bridge Teen Center is launching Empowering Teens Month in November, to highlight the ongoing, unique issues that teens in the community are facing, and the innovative ways it is working to support them through its holistic approach. Governor JB Pritzker issued a formal proclamation that November be known as Empowering Teens Month in the State of Illinois in honor of The Bridge Teen Center's free holistic programs.
All programs and events at The Bridge Teen Center are FREE and open to teens currently in 7th-12th grade with an approved student membership. Students that are not members can apply for a free student membership at www.thebridgeteencenter.org.
For more information about The Bridge Teen Center's free programs and events or to partner with The Bridge during November's Empowering Teens Month, click here.