Posted on Jun 7 2017 by Aaron Heldt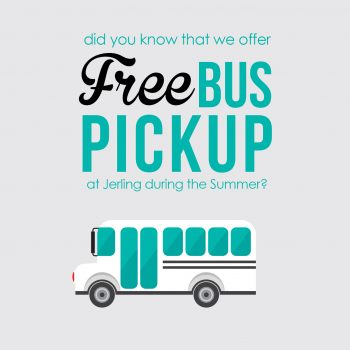 For the first time ever, The Bridge Teen Center will offer FREE bus pick-up, from Jerling Junior High, during the Summer. The bus will pick up at Jerling Junior High on Wednesdays at 1:00 PM on the north side of the building. Advanced sign-up is required. Click here to sign up.

Students must be able to picked up from The Bridge Teen Center when we close at 6PM. It is not necessary that students be students at Jerling to participate, however, parents/students are required to find their own transportation to the pick-up location at Jerling (walk, ride bike, etc.). Parents are asked to contact The Bridge in advance if a student who is signed up will not be there on a specific day.
---