The Bridge Thrift Store Set to Reopen Monday, June 8
Posted on Jun 1 2020 by Aaron Heldt
---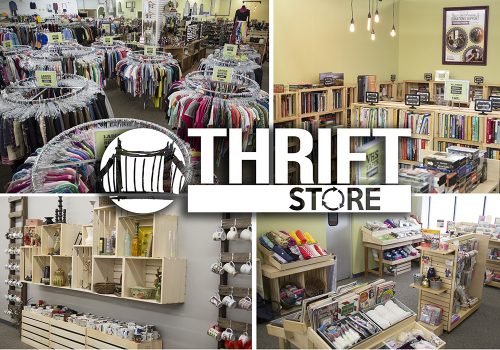 The Bridge Thrift Store will reopen their doors to the public on Monday, June 8 at 10am and will operate following their regular store hours: Mondays, Wednesdays, Fridays and Saturdays from 10am to 4pm and Tuesdays and Thursdays from 10am to 7pm.
Like so many local businesses, The Bridge Thrift Store has been closed since mid-March as a result of the Covid-19 pandemic. "We are so excited to have an open date and soon reopen our doors to the community and continue to provide financial support and student service opportunities to The Bridge Teen Center," said Jason Marion, Store Director at The Bridge Thrift Store. "When we reopen, our goal will be to provide a clean and safe shopping experience for our guests," said Marion. New safety guidelines will be implemented based on the Illinois Retail Guidelines. A few in-store changes include: sneeze guards at cash registers and jewelry counters, social distancing signage, a near touch-free check-out process, and improved sanitization procedures in every area. A complete list of safety modifications can be found at thebridgeteencenter.org/thrift.
Donation drop-off will resume on a limited basis beginning Tuesday, June 9 from 11am to 4pm. Drop-off days will continue every Tuesday and Friday, with additional "Pop Up Drop Days" announced as space permits. Changes have been made so all donating is "touch-free." Donors place donated items in a trailer behind the thrift store and donations will not be processed and/or enter the store for a minimum of 48 hours. Two donation drop-off days took place on May 15 and 22 which caused a long line of cars and a completely filled donation trailer. "The support of the community has been phenomenal and we'd like to thank everyone who came out so far and donated" said Marion. Until further notice, donations will only be accepted during drop-off days, and not inside the store.
During "Reopening Week" (June 8-13), active Bridge Teen Center students and their families will receive a 25% discount off their total purchase at The Bridge Thrift Store. This includes everything in the store, and may be used multiple times during the week. A valid Bridge ID card must be shown, and the student must be present at check-out.
The Bridge Thrift Store is located at 15605 S 71st Court in Orland Park, directly behind Dunkin' Donuts. The mission of The Bridge Thrift Store is to provide ongoing community service and job readiness training opportunities for students as well as ongoing financial support for The Bridge Teen Center's free programs. The store currently provides 30% of the total operating budget for the teen center. To learn more about The Bridge Thrift Store and/or The Bridge Teen Center, CLICK HERE or follow @TheBridgeTC and @BridgeThrift on social media.