November will be known as Empowering Teens Month in the State of Illinois
Posted on Oct 7 2021 by Aaron Heldt
---

ORLAND PARK, IL – The Bridge Teen Center is honored to announce that Governor JB Pritzker has issued a formal proclamation that November be known as Empowering Teens Month in the State of Illinois in honor of The Bridge Teen Center's free holistic programs that have successfully engaged, connected and empowered over 10,500 local teens over the last 11 years.
The official proclamation gives new dimension to The Bridge's new Empowering Teens Month initiative this November, providing an "official" endorsement that underlines the message of how impactful holistic afterschool programming is in the lives of local teens and families. This proclamation marks the 13th time in the organization's 11-year history that The Bridge's programs have been recognized for their effectiveness by both private and government entities.
"We shifted gears from our award-winning Drive Out Bullying efforts to Empowering Teens Month because we wanted to focus on positive, real solutions instead of focusing on a single issue," said Priscilla Steinmetz, Founder and Executive Director of The Bridge Teen Center. "We are proud of the thousands of young lives our free holistic programs have impacted over the last decade or more - and we are grateful to Governor Pritzker and the State of Illinois for recognizing our impact and issuing this powerful proclamation."
Empowering Teens Month runs throughout November and The Bridge Teen Center offers many ways to get involved. From sponsorships to group volunteer opportunities at The Bridge Thrift Store, there are many ways individuals and businesses can support this new initiative. With 90% of all donations directly supporting the students served by The Bridge, Empowering Teens Month is truly an opportunity to "give local" in support of teens and families in our own backyards.

For more information about Empowering Teens Month, click here.
To view the complete proclamation, click below.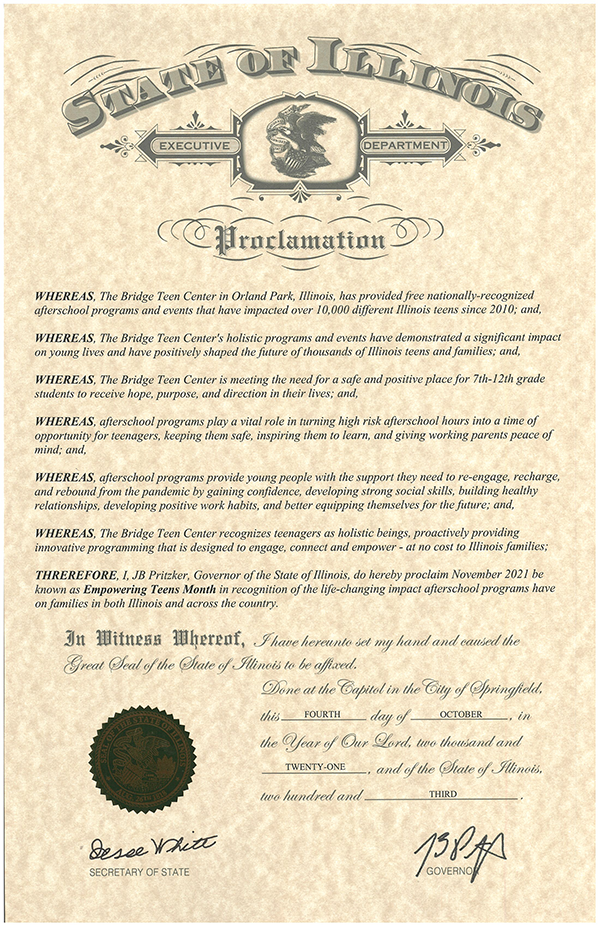 PRESS RELEASE PUBLISHED SEPTEMBER 10, 2021

ORLAND PARK, IL – For each of the last 10 years, The Bridge Teen Center (in partnership with their sister organization, The Bridge Thrift Store) has recognized National Bullying Prevention Awareness Month through a variety of successful events and community-centered initiatives. Although bullying remains an active part of many teens' lives, The Bridge Teen Center's latest initiative is designed to celebrate and raise awareness of real solutions to the struggles teens are facing in our changed world instead of amplifying a single issue.
For the last decade, The Bridge's holistic perspective has helped students discover their gifts, talents, likes, dislikes and potential through a wide variety of free programs and events. This year, The Bridge, along with many individuals and businesses in the community, will celebrate this widespread impact.
Empowering Teens Month will be held in November with a goal of raising awareness of the importance of holistically-designed afterschool programs like those offered by The Bridge. Most importantly, this initiative will celebrate the undeniable impact effective afterschool programs have on teens locally and nationally. Since 2010, The Bridge has successfully engaged, connected and empowered more than 10,500 different students from 128 communities. The Bridge also stands as a model for afterschool programs all over the world, and continually provides support to groups and organizations with similar missions.
Empowering Teens Month will give the community the opportunity to show their support of The Bridge's mission through group volunteer opportunities and month-long sponsorship opportunities. In years past, large companies, small businesses, church groups and others have rallied together in support of our local teens. In addition to raising funds to support the Teen Center's free programs, a month-long awareness campaign will educate the public about how afterschool programs effectively empower teens. Special "on mission" themed programs for teens will also be offered by the Teen Center throughout the year.
During Empowering Teens Month, there are three ways for the community to get involved:

Shop - The Bridge Thrift Store processes hundreds of bags of donated goods each month, with a large volume expected in November. Store inventory is changing daily, and there are great finds every single day. Best of all, bargain-hunting will support the holistic programs at The Bridge Teen Center that provide students with hope, purpose and direction in their lives.
Donate/Sponsor - The community can donate gently used items at the back of The Bridge Thrift Store building at their touch-free donation trailer located at 15605 S. 71st Court in Orland Park, Illinois. Clothing, books, games, furniture, dishes and more are accepted. Donation hours are Monday through Saturday during store hours. Donations are tax deductible to the extent provided by law. Sponsors are also being sought for the month-long initiative. For more info, click here.
Volunteer – Business, schools, churches and family groups are encouraged to volunteer at The Bridge Thrift Store to sort and organize donated items. Individuals and groups (age 10+) will be scheduled on select Saturdays (and select other days) throughout November. To inquire about volunteering, call 708.532.0500 or email to [email protected]
The Bridge Teen Center is a 501(c)(3) nonprofit organization, providing free programs during afterschool and unsupervised hours that help teenagers develop emotionally, physically, mentally and spiritually in a safe environment. Since 2010, The Bridge has served more than 10,500 different teens from 128 Chicago Southland and Northwest Indiana communities. For more info, visit www.thebridgeteencenter.org or call 708.532.0500.