Popular Friday Night Events Return to The Bridge Teen Center
Posted on Jun 21 2021 by Aaron Heldt
---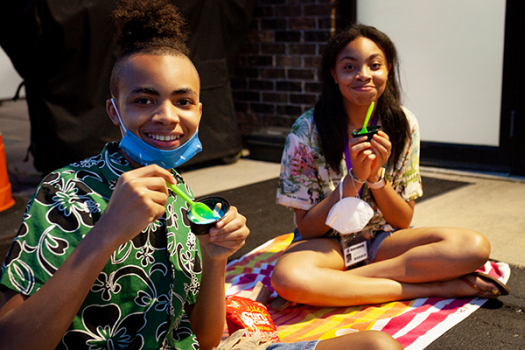 Orland Park, IL - The Bridge Teen Center opened its doors again last Friday to host its first "regular" Friday Night Live event (known as "FNL") since March 2020. With typical attendance ranging from 150-200+ students on any given Friday, the organization opted to pause its Friday night programming at the start of the COVID-19 pandemic in order to adhere to the CDC's safety guidelines. On their first Friday night back on June 11, The Bridge welcomed 101 new and returning students for its tropical themed evening.
The Bridge did host a modified version of FNL over the summer, which included a modified schedule, mask requirements, and a limit to the number of students who were required to sign-up in advance. However, nothing compares to the welcome rhythm of a "normal" Friday Night spent at The Bridge Teen Center with friends. After more than 15 months of waiting, students were excited to experience their beloved Friday nights once again.
Niko Tsiones, a 10th grader from Palos Hills, expressed his gratitude for being able to attend FNL's after such a long absence, "I missed a bunch of my friends and I get to see them today… It's been fun hanging out [again]." His friend, Edward Keegan (10th grader from Joliet), also shared how it was fun to get to come back and "see a lot of familiar faces and some new ones, too."
As with all of their programs and events, The Bridge's Friday night events aim to fulfill the organization's mission to provide a free, safe space for 7th-12th grade students during afterschool and unsupervised hours that are holistically-designed around their interests and needs. Average attendance on any Friday night prior to the COVID-19 pandemic would range from 150-200+ students, with their record attendance set at over 240 students in one night.
As with most things during 2020, the pandemic caused the organization to adapt their usual programming to accommodate smaller gatherings of students. This included pausing Friday nights during periods of high COVID-19 cases, and drastically scaling back the number of students who could attend Friday nights during periods of lower numbers. Thanks to a sponsorship from Macy's, The Bridge also distributed over 840 "Bridge at Home" kits to students as a creative way to keep spirits up.
"For us, student safety is not something we were willing to compromise on - no matter how difficult it was to adapt our mission on the fly," said Founder and Executive Director Priscilla Steinmetz. "It was difficult for us to alter and even pause our programming, but ultimately, we kept our students safe and found new and creative ways to serve them during the pandemic."
Now that COVID-19 cases are lessening, and the CDC is shifting its guidelines back to a semblance of "normalcy," The Bridge will continue to host their Friday Night Live events for students on an every-other-week basis from 7:30-10:30pm. Upcoming themes for Friday Nights include:
● "Karaoke & Backyard Games" - June 25
● "Superhero vs. Villains Night" - July 9
● "Bridge Olympics w/ Karaoke" - July 23
● "BINGO & Rootbeer Floats" - August 6
● "Campfire S'mores & The Great Outdoors" - August 20
Bridge student Niko went on to encourage other teens who haven't been to The Bridge to give it a try. "You can meet a lot of new people and make a lot of friends, so this would be a good place to go." All programs and events at The Bridge Teen Center are FREE and open to teens currently in 7th-12th grade with an approved student membership. Students who will be entering 7th grade in the fall are eligible for membership this summer. Students that are not members can apply for a free student membership at www.thebridgeteencenter.org.
The Bridge Teen Center is a nationally-recognized nonprofit community center that is designed around the needs and interests of teens in the suburbs, providing free holistically-designed afterschool programs and a safe environment for Friday night entertainment. Over 10,000 different students from 128 different communities have been served by The Bridge since 2010. The Bridge is governed by a volunteer Board of Directors and is funded by individuals, businesses, and foundations in the community.